Our Products
ZVWZ Spherical Roller Bearings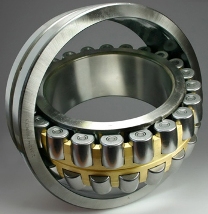 ZVWZ Spherical roller bearings use rollers that are thicker in the middle and thinner at the ends; the race is shaped to match.
Spherical roller bearings can thus adjust to support misaligned loads. However, spherical rollers are difficult to produce and thus expensive, and the bearings have higher friction than a comparable ball bearing since different parts of the spherical rollers run at different speeds on the rounded race and thus there are opposing forces along the bearing/race contact.
Self aligning Spherical Roller Bearing consists of a spherical outer race and inner race with two tracks, a cage and a complement of spherical shaped rollers.
Just like double row self-aligning ball bearings these bearings too are not sensitive to misalignment and it can adjust itself to shaft deflections.
The design of this bearing permits radial load and heavy thrust load in either direction.
THE STANDARD ZVWZ RANGE COMPRISES THE FOLLOWING TYPES
| | | | | | |
| --- | --- | --- | --- | --- | --- |
| Bearing No. | Bearing No. | Bearing No. | Bearing No. | Bearing No. | Bearing No. |
| - | 22310 MBW33 | - | - | - | 24124 MBW33 |
| - | 22310 MBKW33 | - | - | - | 24126 MBW33 |
| 22211 MBW33 | 22311 MBW33 | - | - | - | 24134 MBW33 |
| 22211 MBKW33 | - | - | - | - | 24140 MBW33 |
| 22212 MBW33 | 22312 MBW33 | - | - | - | 24156 MBW33 |
| 22212 MBKW33 | - | - | - | - | - |
| 22213 MBW33 | 22313 MBW33 | - | - | - | - |
| 22213 MBKW33 | 22313 MBKW33 | - | - | - | - |
| 22214 MBW33 | 22314 MBW33 | - | - | - | - |
| 22215 MBW33 | 22315 MBW33 | - | - | - | - |
| 22215 MBKW33 | 22315 MBKW33 | - | - | - | - |
| 22216 MBW33 | 22316 MBW33 | - | - | - | - |
| 22216 MBKW33 | 22316 MBKW33 | - | - | - | - |
| 22217 MBW33 | 22317 MBW33 | - | - | - | - |
| 22217 MBKW33 | - | - | - | - | - |
| 22218 MBW33 | 22318 MBW33 | - | 23218 MBW33 | - | - |
| 22218 MBKW33 | 22318 MBKW33 | - | - | - | - |
| - | 22319 MBW33 | - | - | - | - |
| - | 22319 MBKW33 | - | - | - | - |
| 22220 MBW33 | 22320 MBW33 | - | 23220 MBW33 | 23120 MBW33 | - |
| - | 22320 MBKW33 | - | - | - | - |
| 22222 MBW33 | 22322 MBW33 | 23022 MBW33 | 23222 MBW33 | 23122 MBW33 | - |
| 22222 MBKW33 | 22322 MBKW33 | - | 23222 MBKW33 | - | - |
| 22224 MBW33 | 22324 MBW33 | 23024 MBW33 | | 23124 MBW33 | 24024 MBW33 |
| 22226 MBW33 | 22326 MBW33 | 23026 MBW33 | 23226 MBW33 | 23126 MBW33 | |
| 22228 MBW33 | 22328 MBW33 | 23028 MBW33 | 23228 MBW33 | 23128 MBW33 | 24028 MBW33 |
| 22228 MBKW33 | 22328 MBKW33 | - | - | - | - |
| 22230 MBW33 | 22330 MBW33 | 23030 MBW33 | 23230 MBW33 | 23130 MBW33 | 24030 MBW33 |
| - | 22330 MBKW33 | - | - | - | - |
| 22232 MBW33 | 22332 MBW33 | 23032 MBW33 | 23232 MBW33 | 23132 MBW33 | 24032 MBW33 |
| 22232 MBKW33 | - | - | - | - | - |
| 22234 MBW33 | 22334 MBW33 | 23034 MBW33 | | 23134 MBW33 | |
| 22234 MBKW33 | 22334 MBKW33 | - | - | - | - |
| 22236 MBW33 | 22336 MBW33 | - | 23236 MBW33 | 23136 MBW33 | |
| 22236 MBKW33 | - | - | 23236 MBKW33 | - | - |
| 22238 MBW33 | - | 23038 MBW33 | - | 23138 MBW33 | - |
| 22238 MBKW33 | - | - | - | - | - |
| 22240 MBW33 | - | 23040 MBW33 | - | 23140 MBW33 | 24040 MBW33 |
| - | - | - | - | - | 24040 MBKW33 |
| 22244 MBW33 | - | - | - | - | 24044 MBW33 |
| - | 22348 MBW33 | 23048 MBKW33 | 23248 MBW33 | - | - |
| - | | - | - | - | 24052 MBKW33 |
| - | 22356 MBW33 | - | - | - | 24056 MBW33 |
| - | 22356 MBKW33 | - | - | - | 24056 MBKW33 |
| 22260 MBW33 | - | - | 23260 MBW33 | - | |
| - | - | - | - | - | 24064 MBKW33 |
| - | - | - | - | 23168 MBW33 | 24068 MBW33 |
| - | - | - | - | 23168 MBKW33 | - |
| - | - | - | - | 23172 MBW33 | - |
| - | - | 23076 MBW33 | - | - | - |
| - | - | 23076 MBKW33 | - | - | - |